This is the arbor in April.
There are tulips, blossom and the first roses of summer.
Soon there will be links here to my other Regents Park pages
I have pages not just about the Secret Garden, but also about the lake, and also about Queen Mary's Gardens which has its own small lake

.
There are many pages on Regents Park on my website
From here there will soon be links to my other pages. They celebrate the park in many different ways. Some like this and my page on the Lodge are about one part of the park. Others celebrate the months of the year or the .
Here are some of my ideas
The park is particularly lovely in April and November but each months brings something special....snow drops in January, Daffodils in , March roses in July. There are seasons for ducklings and cygnets, seasons for tulips, and seasons where office workers sun themselves..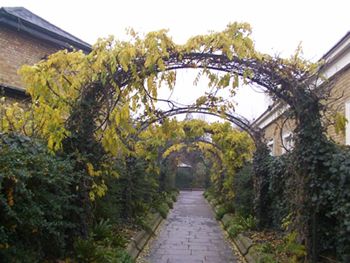 the pergola in Autumn
It looks different from season to season.