Nash and the Terraces
Cathys Home Page

More pictures of the Secret Garden

Park Village East Park Village west the park in April

The terraces of Regents Park.
This site is tells the story of the Nash Terraces around Regents Park and the colourful characters after which they were named,.

Royal Dukes
The picture shows Cumberland Terrace named after the Duke of Cumberland . It is one of the grandest of the Nash terraces around the park.George III and Queen Charlotte had nine sons and six daughters. The youngest two, Octavius and Alfred died in childhood.The eldest became Prince Regent and eveentually George IV. The second was Frederick ,Duke of York..

Duke of York
On the right is York Terrace. The Duke of York, was in the army.However it transpired that his mistress ,Mary Anne Clarke was making money selling off military commisions and promotions for a tidy sum.He later married a German princess, like many of his brothers but the marriage failed and she retired to live in Weybridge with 100 dogs..

< /TD>

Duke of Clarence
The third was William Duke of Clarence.He started off in the navy, but after leaving the navy continued to use very colourful sailor-like profanities in his speech.He set up home with an actress Dorothy Jordan by whom he had 10 children.They all took the surname "fitzclarence".Between pregnancies they were sometimes so hard-up that she returned to the stage. Once when she was acting William wrote to her suggesting he cut her allowance from 1000 to 500 pounds a year and she sent him a piece torn from a playbill that stated "no money returned after the rising of the curtain". After the death of Princess Charlotte, heir to the throne , he joined the royal brothers race to produce a legitimate heir. He married Princess Adelaide of Saxe-Meinigen but their babies both died.However he was able to become king for seven years, filling the gap betwen George IV and Queen Victoria .This is Clarence Terrace
more about his life
Duke of Kent
The fourth was Edward, Duke of Kent.He entered the army where he was a severe disciplinarian and very fussy about small things which made him very unpopular.He spent many years in Brussels living very cheaply with his French canadian mistress Madame St Laurent but after 27 years he ditched her and married a German Princess Victoria Mary Louisa and became the father of the future Queen, though he died when she was only eight months old. .This is Kent Terrace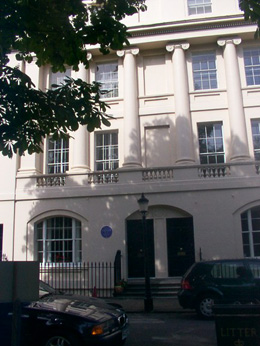 Duke of Cumberland
The fifth was Earnest, the Duke of Cumberland.He eventually became King of Hanover, because the new sovereign, Queen Victoria could not inherit the title , being female.However, it is said that her popularity as a young girl was partly due to the fact that she would keep her Uncle Earnest off the English throne. He was a soldier who lost an eye in battle and was ugly and menacing.It was rumoured he had murdered his valet and been rather too close to his sister Sophia, though neither of these was true.He hated any idea of political reform and was quite reactionary.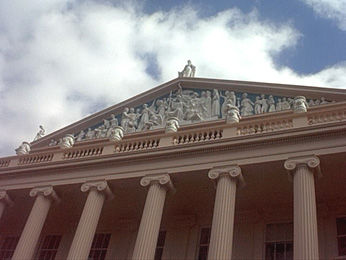 Duke of Sussex
The sixth was the Duke of sussex.His name was Augustus and he was respectable.He was a collector of books and a patron of art and science.This shows the domes of Sussex Terrace.
his family
Duke of Cambridge
The seventh was the Duke of Cambridge.This Picture shows Cambridge Terrace. His name was Adolphus .He was a military man He was quite respectable too with no debts or mistresses and married to Princess Augusta of Hesse Cassel He had a son and two daughters.This is Cambridge Terrace
family

< /TD>

<